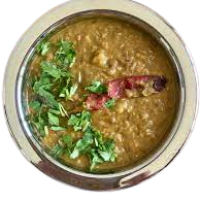 Ghehat ( HorseGram ): 300 Gms
Gandhreni : 1/2 inch Bark
Jamboo Grass : 1/4th Tbps
Onion : 1
Ginger : 1/4 inch
Garlic : 5-7 Cloves
Coriander Powder : 1 Tbps
Jeera : 1/2 Tbps
Asafoetida (Hing) : 2 pinch
Green Chili : As Per Taste
Salt : As Per Taste
Oil : 15-20 Ml
Corainder Leaves : 1/4 Bunch
COOKING TIME
Total Time : 120 mins
Preparation Time : 60 mins
Cooking Time : 60 mins
Servings : 4
BEST COOKED IN
Soak the lentils for overnight.
When ready to cook, Add the soaked dal in Mortar & Pestle and grind it coarsely. This is optional if you don't have the above use a grinder mixer.
Heat oil in a pan and add cumin seeds, and add red chili and 1 green chilly.
Now add onion and fry till it becomes golden brown.
Add ginger garlic paste, salt and mix well and cook for 2 minutes.
Add the coarsely grinded ghehat Dal ( Horse Gram ).
Now cook it on low flame while stirring continuously.
When the mixture becomes lightly fried, add turmeric powder,red chilly powder & garam masala.
Add water 3 – 4 times of the above Mix, Keep stirring continuously to have the consistency.
When it becomes thick, turn off the gas and add Coriander leaves for taste.
DONT FORGET TO USE MYOR PAHAD'S JAMBU, GANDHRYAN & OTHER SPICES.
ALONG WITH DONT MISS 15+ VARITIES OF PICKLES WE HAVE INTRODUCED RECENTLY.