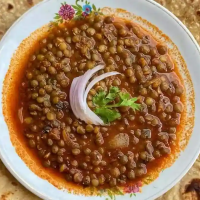 INNGREDIENTS
Rajma-150 gms
Urad Dal – 200 gms
Oil – 100ml
Whole Garam Masala – 4 tsp
Turmeric powder – 1 tsp
Cumin Seeds – 5 gms
Whole Red Chilies – 4-5 Pieces
Coriander Seeds – 5 gms
Ginger Garlic Paste – 3 tsp 
Tomato Puree – 2 cups
Cream- 1/2 cup
Salt to taste
COOKING TIME
Total Time : 90 mins
Preparation Time : 10 – 15 mins
Cooking Time :  70  mins
Servings : 4
BEST COOKED IN
Soak rajma & urad dal overnight. Cook the dal for 4 whistles.
Take metal pot & add oil, whole garam masala, stir fry in medium heat. 
Now add cumin seeds, coriander seed, and whole red chilies and fry till it cracks.
Add ginger garlic paste, tomato puree and fry for sometime
Add boiled dal and keep cooking for 20 – 30 minutes. Your Bhaddu ki dal is ready
Garnish with cream. Serve hot.
                               DONT FORGET TO USE MYOR PAHAD'S JAMBU, GANDHRYAN & OTHER SPICES. 
                      ALONG WITH DONT MISS 15+ VARITIES OF PICKLES WE HAVE INTRODUCED RECENTLY.