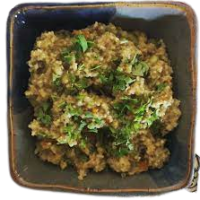 INGREDIENTS
Bhatt Dal – 1 cup
Jhangora- 1 cup
Cumin seeds – 2 tsp
Tumeric powder – 1 tsp
Coriander powder – 2 tsp
Red Chilli powder – 1 tsp
0il-50 ml
Salt to taste
COOKING TIME
Total Time : 30 – 45 mins
Preparation Time : 10 – 15 mins
Cooking Time : 25 – 35 mins
Servings : 4
BEST COOKED IN
Grind the Bhatt in thick pieces.
Wash Jhangora and soak for an hour.
Take the pot & add oil to it. Fry cumin seeds till it crackles then add tumeric powder. You can also add garlic.
Add Bhatt pieces and Jhangora with Coriander & Chilli powder and Salt.
Add water to this & let it cook on slow fire for 25 – 30 mins.
Garnish it with corainder leaves. Your Ginjudu is ready to be served.
                               DONT FORGET TO USE MYOR PAHAD'S JAMBU, GANDHRYAN & OTHER SPICES. 
                      ALONG WITH DONT MISS 15+ VARITIES OF PICKLES WE HAVE INTRODUCED RECENTLY.